The Holy Scriptures record that the three wise men followed the star leading to Bethlehem where Jesus Christ was born, and which is the reason Christians celebrate Christmas.
I would love to see the challenges and intense adversity of this passing year as stars in my entrepreneurial journey leading to my destiny.
For example, my last experience working as an aircraft cleaner at Amsterdam Airport was a star leading to a brilliant idea to give people working underrated jobs equal respect and recognition they deserve as most corporate or other high profile jobs (more about this in 2015, stay tuned).
My children Belladonna and François are 2 bright stars shining in these dark months with their love, understanding, patience and support. Thank you.
Great articles of timeless content produced by the stars on Colors Team kept the Colors light glowing on our social media platforms.
As the journey to my destiny continues, your support and (virtual) friendship in response to my publisher's note were encouraging and heartwarming. I made it no secret that at times I felt like throwing the towel in the ring and trust, quit or fire God as my boss.
At the end of the day, God is still my boss, He is in control, and through it all my faith and trust in Jesus and His Word were strengthened. He promised to take me by my hand and lead me through shady green pastures.
Concluding, I'm inspired, empowered and motivated to continue on this exciting and adventurous journey in the New Year. I'm thankful for the twinkling stars in my  support system, along with Claudia Schalkx and Guillermo Kaswalder. My corner stones and shining stars in my entrepreneurial journey, bringing out the best in me and Colors. God bless you richly for your friendship and support.
I wish you all a Blessed Christmas and a Prosperous New Year.
Tirzah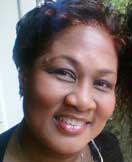 ---