The Jewish Historical Museum in Amsterdam presents the exhibition Jews in the Caribbean. It is a history of almost four hundred years where trading, plantations, slavery and mixing of cultures have played a major role. This is the first time an exhibition is dedicated to this topic. Visitors to the exhibition will explore the Jewish history of Suriname and Curaçao.
Jews in the Caribbean tell the story of the Jewish communities extending from the seventeenth century from Amsterdam settled in an unfamiliar, new world: through Brazil and New Amsterdam (now New York) Portuguese Jews went to Suriname and Curaçao. Thanks to the great economic and religious freedom that Jews enjoyed in these countries and by their widespread commercial and family networks emerged flourishing Jewish centers there. In the tropics, the specific social circumstances, unlike in the Netherlands, led to a new expression of Jewish identity.
The societies of Curaçao and Suriname do differ. While on Curaçao there had been a trading culture, in Suriname a plantation culture was developed. This difference was partly determined by the extent to which the Jewish community assimilated with the general population. The mingling of the Portuguese Jews with the Afro-Surinamese population, initially on the plantations and later in Paramaribo, blended their cultures. On Curaçao cultures  also intermingled, but to a lesser extent.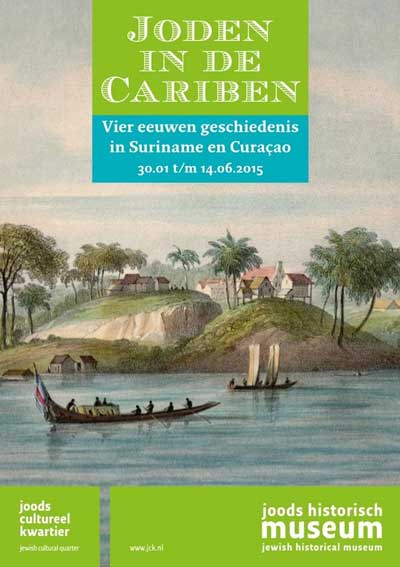 After flourishing in the seventeenth and eighteenth centuries in both areas the turndown took its toll. In the course of the nineteenth century many Jews migrated to the Netherlands or America. Nowadays, the Jewish community in Suriname and Curacao is quite small. However, the traces of Jewish culture, for example culinary traditions, language and religious practices are numerous, both in Suriname and Curaçao.
The exhibition Jews in the Caribbean is organized chronologically and includes paintings by Frans Post and Job Adriaansz Berckheyde, prints and religious objects used daily. Also lots of old photographs are displayed along with fascinating interviews with Surinam and Curaçao Jews. In addition, personal portraits from the project 'Suri-Jewish " forms part of the exhibition. In these movies Surinamese Dutch relate what Jewish culture means for their identity.
The exhibition is richly illustrated and appears in a publication Jews in the Caribbean published by Walburg Pers. In ten chapters different authors write about the significance of the Jewish communities in the former Dutch colonies.
The Jewish Historical Museum Exhibition is open till June 14, 2015