As the world comes to Sochi for one of the most expensive Olympic Winter Games in history, we need to question where we are today in living up to the Olympic spirit of inclusivity and diversity.
Played and watched by people from a variety of social backgrounds, sport has an educational and socialising effect that makes it an ideal vehicle for intercultural dialogue and social integration. Indeed, when we speak about "integration through sport", there is wide acknowledgement of the positive contribution sport makes to social integration, for ethnic minorities and immigrant communities in particular.
It is important, however, not to take things at face value. Experience has shown that sport can equally be a setting for extreme nationalism, exclusion and discrimination. The Council of Europe Convention against Spectator Violence has observed that, unfortunately, racism and intolerance are still rife.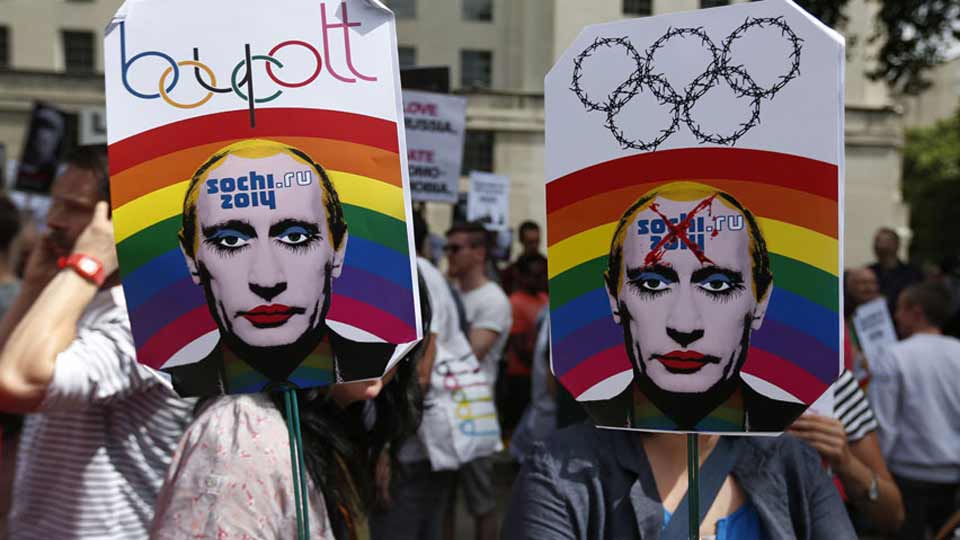 Sochi and advancement of gay rights
In August 1982, 1,350 athletes from 12 countries gathered in San Francisco for the first-ever Gay Games.
Three decades later, sports are once again stirring us to take stock of gay rights around the world. Controversy over recent restrictions on sexual minorities in Russia have, arguably, made the Sochi Winter Olympics the most geopolitically charged Games since the Soviet-boycotted 1984 Summer Olympics in Los Angeles. Ultimately, the costliest Olympics in history may be remembered for marking a period in which gay rights are not so much advancing globally as expanding in certain parts of the world while regressing or languishing in others.
The Sochi Olympics come during a dizzying period in the history of the global gay-rights movement. Last year witnessed several significant advances for activists. In the U.S., nine states legalized same-sex marriage and the Supreme Court struck down the Defense of Marriage Act. In that same year Brazil, Britain, France, New Zealand, and Uruguay all legalized gay marriage as well.
But going global hasn't necessarily meant going in the direction gay-rights advocates would like. As the Brussels-based International Lesbian, Gay, Bisexual, Trans and Intersex Association (ILGA) noted in its latest report on "state-sponsored homophobia," "little has changed in the proportion between countries criminalizing same-sex sexual acts between consenting adults and those which do not, i.e., respectively, 76 (roughly 40% of UN Members) versus 114 (roughly 60% of UN Members)."
Religion undoubtedly informs opinions on LGBT rights but it's not the only factor at play. India and several countries in sub-Saharan Africa, for instance, are implementing gay-sex bans with roots in British colonialism.
Then there's domestic politics and geopolitics. Vladimir Putin, ILGA Executive Director Renato Sabbadini argues, sees anti-gay legislation as a means of placating the powerful Russian Orthodox Church and defending 'traditional values' in opposition to the West, where LGBT rights are generally advancing. But Putin knows that as a member of the Council of Europe, a human-rights organization, Russia cannot recriminalize homosexuality, hence the country's roundabout propaganda and adoption laws.
In short, LGBT rights are on the world's curve right now: a movement that is out of the genie bottle but far from universally accepted.
As for the gay-ban issue, maybe we should practice what the Canadian Olympic Committee is preaching: If any of Canada's athletes have reservations about competing in a country that recently passed homophobic legislation, they're being told to park them and get their heads in the Games.
"As far as preparing for the Games, those activities (are) not what we (are) talking about," Canadian Olympic Committee president Marcel Aubut says. "(It's) athletes performing and we want to make sure that they feel the same way as us. Our job over there is to perform and win. The whole concentration should be on this and that's what we are going to do. And we are convincing our athletes to think and to act the same way." In other words,  putting the focus  on their performance and not on their sexual choices.

All skirts are equal
Russia's controversial law prohibiting any public display of homosexuality will also prevent the Athletes from Scotland, Fiji and American Samoa to take part in the opening ceremonies. The reason? Vladimir Putin's government has banned male athletes from wearing skirts in public. The Scottish Olympians were supposed to wear kilts, traditional attire for men and boys in Scotland, while the Fijians and Samoans were to wear the traditional lava lava, a male version of the female sarong. Fiji and American Samoa are among the few tropical nations that send a delegation to the quadrennial winter competitions.
Participation but not Equality
Some of the Olympic values that the International Olympic Committee (IOC) promotes are practicing sport ethically, eliminating discrimination from sports, encouraging women's involvement in sport, fighting the use of drugs in sport, and blending sport, culture, and education.
Even if the IOC presses countries to allow women's participation in sports, especially at the Olympic level, this does not mean that the women athletes are treated equally. In the 2012 Olympic Games two women athletes from Saudi Arabia were allowed to compete in the Olympics but were not allowed to train inside their country and were chastised by many in their Islamic communities for their "disgraceful" actions. More controversy surrounding these women athletes followed when they were required to participate in hijabs (traditional Muslim head covering). Critics said that the IOC was requiring the countries to send women athletes but then forgot about the countries' cultures after the fact.
Even though 2012 marked the first Olympic Games in which every country sent women athletes to compete, many people believe that the Olympic Games are far from reaching gender equality. This belief is evidenced by the fact that the number of women participating in the Olympics is still significantly less than the number of men competing. That being said, the 2012 Olympic Games did mark the highest percentage of women athletes ever at 45%
Caitlin Fisher, delivers a TED talk on how female athletes negotiate spaces and recreate their identities in order to enter the still very masculine arena of sports. She discusses the case of women's football in Brazil, the discrimination and marginalisation female football players have faced and what's the way forward.
When too much of a good thing is bad
It's not only the lack of women participation in so called men sports, but how performance is being measured. Caster Semenya, a woman from South Africa, who won the 800 meter run in the 2009 Field and Track Championships with a time that was faster than the men's winner in the same event, had to undergo a series of tests in which doctors were to determine if she was actually a woman, and she was not allowed to compete for 11 months' time. A decision based on an abnormal level of testosterone. Oddly enough nowhere in the ruling the IOC states what a normal level of testosterone is.
Examples of inequality treatment in the context of the IOC direction and/or that of the games, abound. For men and for women. While the measures taken keep being biased, the path towards integration and equality will be a long a winding one.