I'm going to be creative by starting my publisher's note with another item than the main story. I can imagine after returning from a well deserved vacation, it's business as usual for many of us. So what's creative about that?
Did you by chance visit one of the Synagogues with Sand-covered Floors in the Caribbean or Amsterdam, during your travel or leisure. There builders were not just creative, but master minds of spectacular historical landmarks.
I was privileged to visit the one located in Curaçao, where I grew up. This is because my father, Kenneth Libert, being a gifted and professional Christian musician, was asked to play the organ in the synagogue for devotional meetings on Saturdays. On Sundays he would worship and play piano or organ at his own congregation.
Besides my Christian beliefs and values, one of the things I use to tell my children when leaving home for school was: "be brave, be bold, be beautiful". At the time, I was not aware of the soap opera the Bold & Beautiful, until someone brought this to my attention. Would you believe me if I say it became my moment of relaxation after work, before dinner. What's your global & local gamut of emotion or "novela"? Don't be shy to admit!
Did you ever stand still, that storage of your groceries, and other produce, you exercise creativity in Cuisine? Do not forget to download the handy leaflet you can put on your fridge.
So hopefully Turquoise will lead to new creative insights in Colors & You. By creating your own vision board, you will experience passion and delight in what you undertake.
This brings me to our main story, Creative Thinking. Going from print to digital with COLORS, I thought with no printing, shipping, and distribution cost, this should be a piece of cake. It didn't take long before I realized, that going digital also means becoming more creative, with every issue. Fortunately with a creative COLORS team, I don't have to do it all by myself.
"For God has not given us the spirit of fear, but of power, and of love, and of a sound mind.".
Creatively yours,
Tirzah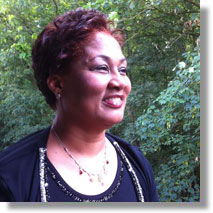 ---